Pak-Australia Trade Profile
Though Australia is a large economy, integrated into international trade channels, Pakistan has sup-optimal trade levels with Australia. During the period 2016-20, Australia was the 24th largest trading nation in the world but 30th largest trading partner of Pakistan. It means that Pakistan is trading less with Australia than Australian global trade ranking. On the other hand, Pakistan was the 60th largest trading nation of the world but 31st largest trading partner of Australia. It
means that Australia is trading more with Pakistan than Pakistan's global trade ranking. Pakistan's bilateral trade with Australia in the Financial Year 2020-21 (Jul-Jun) was US$ 754 million, which was 0.14% of Australian global trade and 0.92% of Pakistan's global trade.
Since FY2016, Pakistan-Australia bilateral trade flow has been uneven – ranging between US$468 million to US$810 million, mainly driven by oscillating import volumes of agricultural commodities by Pakistan. The highest level of bilateral trade i.e. US$810 million was achieved in FY2017, but it gradually declined to US$ 468 million in FY2020, before increasing to $754 million in FY2021.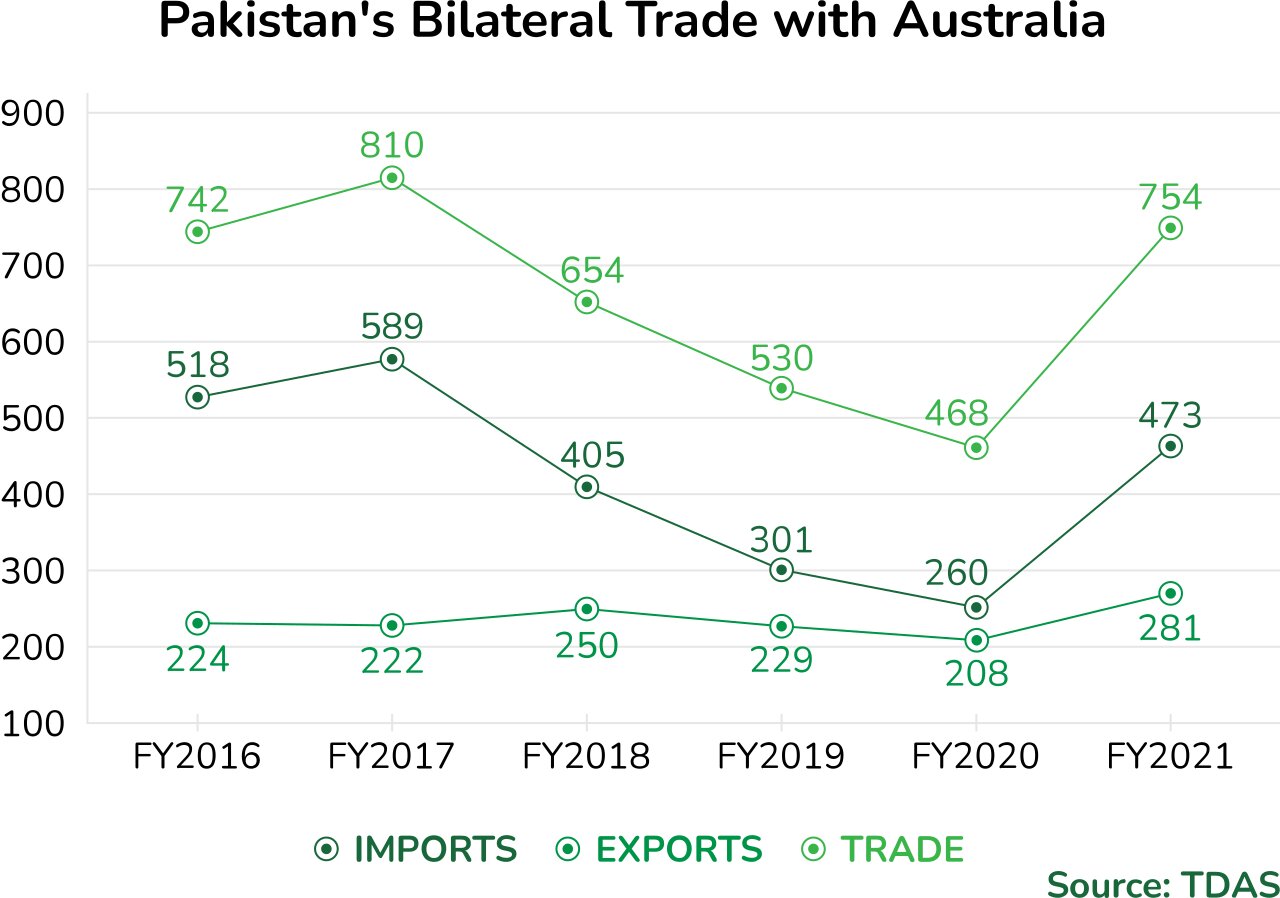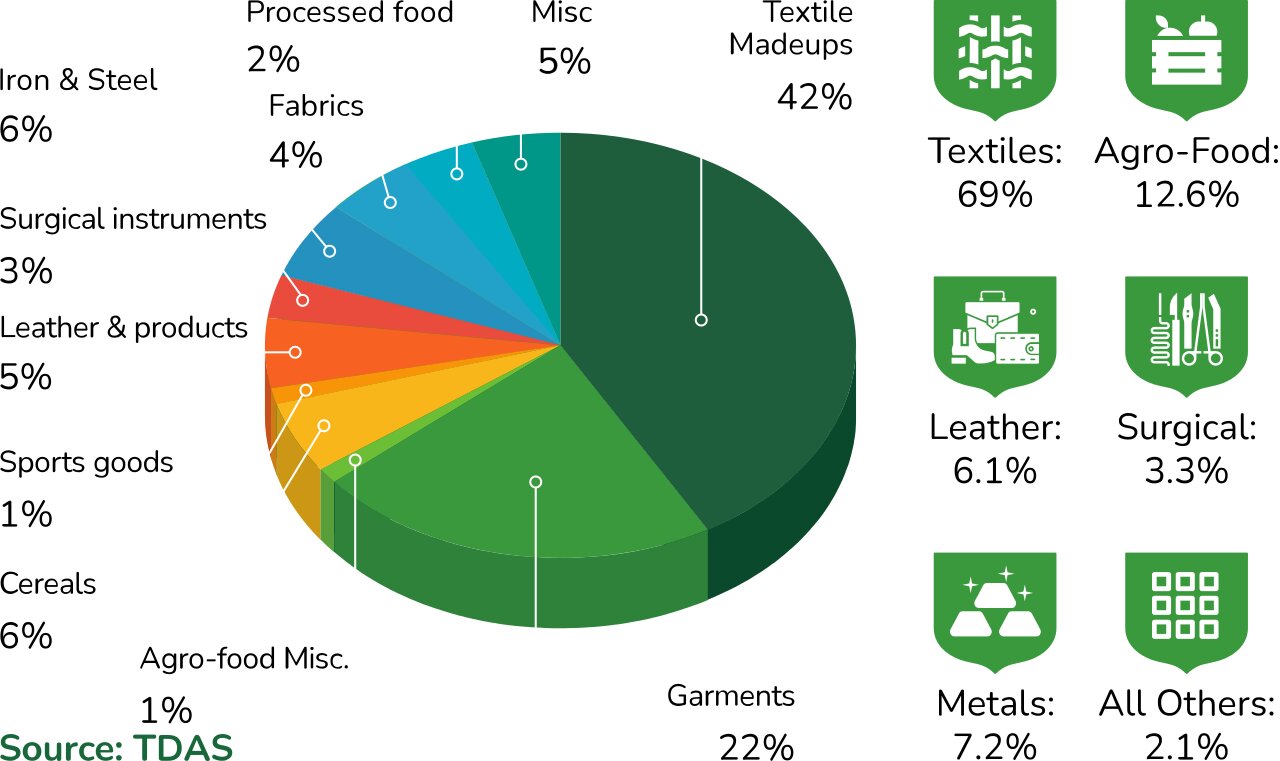 Pak Exports to Australia
During the FY2021 (July 2020 – June 2021), Pakistan's exports to Australia were valued at US$281 million, registering an increase of 35% over the previous year's performance of US$208 million. Pakistan's top ten export products to Australia include textile made-ups US$ 117 million, garments US$ 63 million, iron and steel (mainly pipes) US$ 16 million, cereals (mainly basmati rice) US$15 million, leather goods (mainly gloves) US$ 15 million, processed food (mainly spices) US$ 14 million, textile fabrics US$ 10 million, surgical instruments US$ 9.3 million, sports goods US$ 3.6 million and miscellaneous agro food items US$ 3.4 million. The top-10 products constitute 95% of Pakistan's exports to Australia. At the product group level, Textile Group constitutes 69% of exports, Agro-food Group 12.6%, Metals Group 7.2%, Leather Group 6.1%, and Surgical Instruments 3.3%.
Pak Imports from Australia
Pakistan's imports from Australia in FY2021 amounted to US$473 million representing an increase of 82% from the previous year's performance of US$260 million. The top-ten import products include pulses US$ 186 million, LNG & coal $114 million, iron & steel (scrap and flat-rolled) US$58 million, unwrought zinc US$19.7 million, wood products (mainly paper & paperboard) US$13.6 million, fertilizers (DAP) US$22.4 million, other metals US$ 12.6 million, office machinery US$ 9 million, dyes and pigments US$ 6.5 million, and chocolates US$ 4.7 million. The major product categories of import included food items 42%, petroleum products (mainly coal and LNG) 24%, metals 19%, Agri & other chemicals 8%, machinery 3% and all other items 4%. Pakistan has been importing live animals (mainly cows) worth US$ 6 to 10 million, but its import completely stopped in FY2021 due to Covid-related market developments.