Foreign Secretary of Pakistan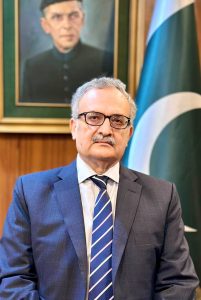 MUHAMMAD SYRUS SAJJAD QAZI
Ambassador Qazi was most recently serving as Special Secretary (Administration) at the Ministry of Foreign Affairs. He was previously Pakistan's Ambassador to Türkiye (2017-2022) and Hungary (2015-2017).
Ambassador Qazi has extensive experience of working on both bilateral and multilateral issues. He has served in Pakistan's Mission to the United Nations in Geneva (1995-1999), the High Commission of Pakistan in New Delhi (2005-2006), and the Embassy of Pakistan in Washington, DC (2006-2013).
At the Headquarters, Ambassador Qazi has worked as Desk Officer for the United States (1992-1995), as Desk Officer on human rights-related issues in the UN Division (1999-2002), and on the Foreign Secretary's staff (2004-2005). He also served as the Joint Secretary for Foreign Affairs at the Prime Minister's Office from 2013 to 2015. Ambassador Qazi also served on deputation with the United Nations Development Fund for Women (UNIFEM) in Islamabad from 2002 to 2004.
Born in 1964, Ambassador Qazi joined the Foreign Service of Pakistan in 1990. He holds an MBBS degree as well as a Master's Degree in Public Diplomacy.
He is married, with three children.